Baruch Akbashev, Biomedical Engineering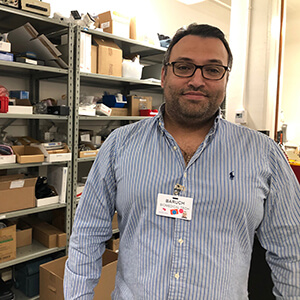 The COVID-19 pandemic is changing our world and health-care professionals are on the front lines.
It's safe to say Baruch Akbashev helps keep things buzzing at MHC.
The electronic technologist in biomedical engineering, part of Plant Services, will maintain or repair just about any electronic device in the health centre, including laser thermometers, blood pressure units, patient monitors, surgical microscopes, anesthesia machines, defibrillators, slit lamps—you get the idea. And if Baruch can't fix something, "I call the guys from the company," he says.
COVID-19 has not changed how he does his job, except that now he wears eye protection and a mask if he enters an area with patients. Baruch says COVID-19 has increased everyone's focus on patient and staff health and well-being.
"Everybody is responsible for patients and the whole team's health. We support each other and it's working well."
In fact, Baruch says, it's working so good he'd rather be at work than grocery shopping.
"I think, in the health centre, it's more safe than in a store somewhere."
Keep COVID-19 informed by visiting: covid19manitoba.ca
#mhcfamily #healthcareheroesMB #COVID19