Bernard Lambert, Health Links – Info Santé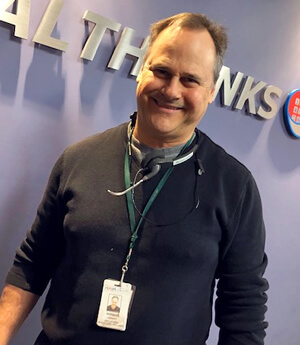 The COVID-19 pandemic is changing our world and health-care professionals are on the front lines.
Bernard Lambert is a Team Leader at Centre de Santé in St. Boniface. Last week he brought his staff to join forces with the Health Links-Info Santé team at Misericordia Health Centre to help with the influx of phone calls from Manitobans during the COVID-19 pandemic.
Bernard and his team of 10 usually work out of their St. B. location, fielding calls to Health Links-Info Santé requiring French language services. COVID-19 has brought everyone together under the MHC roof to streamline and coordinate efforts.
"It's better to be an army together than an army split," said Bernard.
The number of nurses and COVID-19 screeners taking calls in a 24-hour period has risen dramatically since COVID-19 began, and they're training and adding more every day to help bring down wait times.
Bernard, who has been a nurse for 39 years, including 16 working emergency, says he's amazed at how cooperative and patient Manitobans have been as the call centre ramps up to meet increased demand.
"They thank us when we answer, even if they've been waiting a long time."
He's happy to see an online COVID-19 screening tool (also available by calling 1-877-308-9038) now up and running to help Manitobans determine if they should call Health Links-Info Santé or seek other medical advice.
Keep COVID-19 informed by visiting: manitoba.ca/covid19
#mhcfamily #healthcareheroesMB #COVID19