Burnice Johnston, After Hours Central Intake Program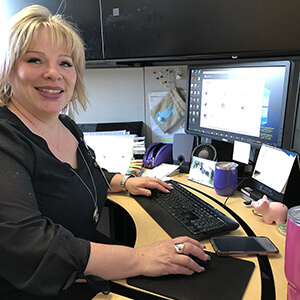 The COVID-19 pandemic is changing our world and health-care professionals are on the front lines.
One day at the beginning of March Burnice Johnston was a manager of the Provincial Health Contact Centre's After Hours Central Intake program, which provides service to Home Care clients evenings and weekends, and the next day she was a COVID-19 chief staffing scheduler extraordinaire.
"The world changed overnight," she says simply. "I was asked to take on the recruitment and scheduling of the COVID-19 screeners hired to handle the skyrocketing volumes of Health Links – Info Santé calls."
At the outset of the pandemic, the call volumes were so high that callers were not even able to get through to Health Links – Info Santé. With the implementation of new phones and software and the hiring of many COVID-19 screeners, callers were able to get through and wait times were markedly reduced.
Almost three months later, the beginning of the pandemic in Manitoba is still very much a blur to Burnice: "It was all COVID, all the time. I was arranging the schedules for staff to be trained to take calls and to be trained on the new systems. And still managing the After Hours program at the same time."
Every day was different. At one point, Burnice was given 120 University of Manitoba 4th year nursing students to schedule in for COVID-19 screening training and shifts answering the phones.
Burnice reckons she worked 45 days without a day off. Long days. She says there were jokes about wanting Misericordia's Sleep Disorder Centre to open so Provincial Health Contact Centre staff could sleep at the centre.
Burnice continues to manage scheduling of Health Links – Info Santé staff, but the workload is more manageable nowadays.
"Today, I'm able to breathe," she says with a laugh, "and take a day off."
An online self-assessment tool is available to help Manitobans determine if they should contact Health Links – Info Santé or seek other medical advice. Manitobans can also proceed directly to a COVID-19 testing site without having to call Health Links – Info Santé.
Health Links – Info Santé, available to all Manitobans, operates 24/7, 365 days of the year. For any health questions, call 204-788-8200 in Winnipeg or toll-free 1-888-315-9257.
Keep COVID-19 informed by visiting: covid19manitoba.ca
#mhcfamily #healthcareheroesMB #COVID19