Dr. Mathen K. Mathen, Head of Ophthalmology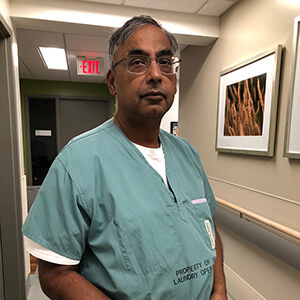 The COVID-19 pandemic is changing our world and health-care professionals are on the front lines.
"Nothing is normal. Everything is different," Dr. Mathen sums up the evolving COVID-19 situation at Misericordia, home to the provincial eye care centre of excellence.
Ophthalmologists are still seeing patients in MHC's eye care clinics, but only those whose condition would otherwise deteriorate if they didn't continue to receive timely care: many macular degeneration injections and oncology appointments, for example.
Dr. Mathen is currently working with Winnipeg ophthalmologists across the city to finalize a new process so they can provide on-call eye care at Misericordia – where personal protective equipment (PPE) and support is more available – rather than in their offices.
Coincidentally, as he's speaking, an ophthalmology resident pops her head into Dr. Mathen's office to fit-test a pair of PPE goggles.
"We're reduced our elective surgery slates," says Dr. Mathen, "and we may go to strictly emergency surgeries in the near future. I know this is a difficult message for patients who have been waiting some time for eye surgeries. We take our direction from Shared Health and this is absolutely the safest way to protect our patients and our staff."
"Misericordia will always remain open for eye emergencies."

Indeed. Dr. Mathen is the emergency on-call ophthalmologist this week and performed four retinal detachment surgeries today.
Keep COVID-19 informed by visiting: covid19manitoba.ca
#mhcfamily #healthcareheroesMB #COVID19