Help for long-haul COVID-19 patients at MHC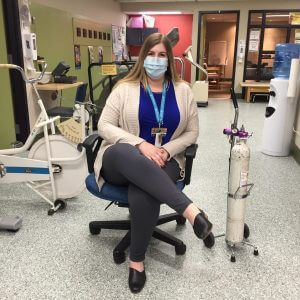 More than 12,000 post-COVID patients in Manitoba have experienced a condition known as long-haul COVID-19. These patients are experiencing breathing difficulty, extreme fatigue, headaches, concentration and cognition symptoms that persist for months after their infectious period has ended.
Two rehabilitation programs at MHC—Easy Street and MHC for Lungs—are working together to bring these patients a better quality of life.
Laura Zelcer, a respiratory therapist at MHC for Lungs, says the majority of their long-haul COVID-19 patients have "severe shortness of breath, even at rest.
"And they're so young, with no previous medical conditions."
Treatment plans include lung-disease education, breathing relaxation and control techniques, and counselling. The treatment is similar to what other patients in the program experience for help with conditions like chronic bronchitis, emphysema or chronic asthma—except that the post-COVID patients are more fragile.
"They can't be worked as hard or they'll end up regressing."
Counselling and education for the long-haulers is also different as they are typically younger and were previously healthy.
"They've had to step back from family roles and work life and learn to pace themselves, to go from being caregivers to letting someone else be the caregiver for them," said Laura.
MHC for Lungs often refers long-haul COVID-19 patients with neurological symptoms to MHC's Easy Street rehabilitation program. Easy Street offers a safe, simulated community environment—including a bank machine, car, grocery store, sidewalk and street settings—for clients to regain skills after life-impacting health changes like an acquired brain injury or a stroke.
Long-haul COVID-19 patients are often experiencing challenges around concentration, short-term memory and brain fog.
Easy Street has been working with patients that completed the eight-week MHC for Lungs program, and all the work has been virtual.
Easy Street physiotherapist Brad Lucas says he builds on the MHC for Lungs exercises and therapy, reassessing patients and modifying their program as they progress, while occupational therapists use strategies to improve cognition and memory.
Programming is customized to help patients achieve specific goals, like returning to work, but Brad says progress can be slow.
"Part of their problem is their tolerance for activity. If they overdo it, they need a day or two to recover."
Long-haul COVID patient Frank Adam was diagnosed with COVID-19 in October 2020 and still experiences severe fatigue and issues with breathing, memory and concentration. He uses oxygen most of the day. When he talks he can have trouble finishing sentences.
Frank was a professional photographer before COVID-19 hit. He hoped to return to work this August but realizes now that is unlikely. He just finished the MHC for Lungs program and is starting up with Easy Street. Although he's had some physical strength improvement, severe fatigue is still a big challenge.
"It's going to be a slow process," says Frank.
He's grateful for the MHC rehabilitation programming, saying it's "one of the things, besides my family, that's keeping me positive."
Keep COVID-19 informed by visiting: covid19manitoba.ca
#mhcfamily #healthcareheroesMB #covid19MB