Kara Scott, Food Services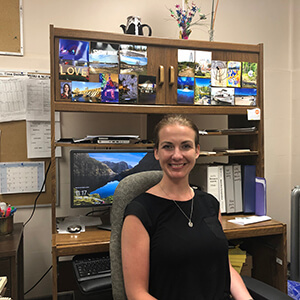 The COVID-19 pandemic is changing our world and health-care professionals are on the front lines.
MHC Food Services provides more than 600 meals every day to patients and residents. Kara Scott, manager, Patient/Resident Food Services, had to work with her team to make adjustments to their work flow to continue to keep things running smoothly during the pandemic.
"Providing meals doesn't stop during COVID-19," says Kara. "Initially there was some confusion about PPE and things weren't the smoothest, but we've adjusted and made things work well."
One of the biggest adjustments was minimizing the time food services staff spent on patient and resident units. Additionally, food services has had to re-work their external partnership with Meals on Wheels, switching to contactless pick-up.
Planning is a huge part of Kara's day-to-day duties to ensure patients and residents' individual nutrition needs are met. Kara also had to create a contingency plan in the event that MHC had to open up additional Transitional Care beds in different areas of MHC (freeing up space at other hospitals for more COVID-19 patients).
Throughout the last couple of months, there have been numerous program changes and the food services team has continued to evolve their process as the pandemic unfolds.
"I'm excited for when gyms are allowed to re-open; working out is my stress reliever," says Kara and adds: "It'll be good to see friends again and be able to go out in groups."
Keep COVID-19 informed by visiting: covid19manitoba.ca
#mhcfamily #healthcareheroesMB #COVID19