Kristine Harbottle, Community IV Program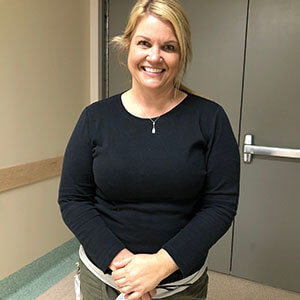 The COVID-19 pandemic is changing our world and health-care professionals are on the front lines.
As a nurse working in the Community IV Program at MHC, Kristine Harbottle feels the threat of COVID-19 follows her home. Her strategy is to shower as soon as she gets there.
"Then I can go near my family," she said.
"It's stressful for the family, my kids and my husband…it's scary for people."
The Community IV Program is a service for people who require prescribed intravenous antibiotics in a clinical setting. Up to 70 people attend MHC for the treatment each day, and Kristine also does home visits for people too sick to attend the clinic. The treatments are for bodily infections requiring IV antibiotics—but not for COVID-19.
"We give the antibiotics and we'll do the wound care," Kristine said, adding an Infectious Disease doctor is also part of the patient care.
Patients and staff are now screened for signs of COVID-19 before entering the health centre, Kristine said.
Community IV Program staff have always been vigilant about hand washing and keeping spaces clean and equipment sterile, but now they're being even more cautious and wearing masks and eye protection.
"Right now, I'm talking with my mask on," Kristine said over the phone.
And of course, even though they are performing an essential service, they still have to eat. COVID-19 hasn't spared that process either.
"We have a small lunchroom, so we have staggered all of our lunch breaks because we're trying to keep six feet apart."
Keep COVID-19 informed by visiting: covid19manitoba.ca
#mhcfamily #healthcareheroesMB #COVID19