Huddling for Safety at MHC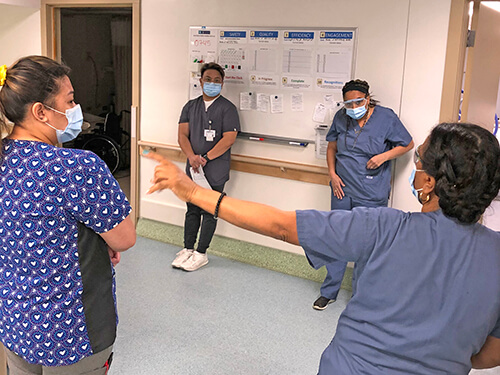 Karen McCormac, MHC's director of quality and patient safety, may be getting a new nickname soon—coach.
Since last November Karen has been coaching MHC staff and managers on how to conduct Daily Safety Huddles. The huddles—essentially very short stand-up meetings—are billed by the WRHA as, "a proven way to improve safety and patient outcomes in health-care settings," with well-documented benefits for health-care workers and the people they care for.
It takes up to three weeks for Karen to support managers to conduct daily huddles to advance staff and patient safety. The huddles will be taking place throughout MHC, including clinical and non-patient-facing areas. Each one takes a maximum of 15 minutes, though once comfortable with the process they are often over in as little as five minutes. Everyone is welcome—nurses, HCAs, unit clerks, patients, residents and families.
"The idea is to have an open dialogue about safety concerns—patient or staff related," says Karen.
"The more we can talk and discuss issues in a safe, open way that gives people a chance to collaborate and contribute to solutions, the better outcomes we will experience for everyone."
Huddles use a "Huddle Board" divided into quadrants to help focus responses on four areas—safety, quality, efficiency and engagement. The gatherings are a chance to identify ways to improve patient care, as well as to flag safety concerns that may relate to individual patients (e.g., if a patient is prone to falling the team can talk about their care plan) or all patients through universal process changes.
A ticket is created for any identified issues that need a solution. Tickets may be resolved immediately (e.g., a visit from plant services to fix a leaky sink) or may need to be escalated further up the huddle chain to an MHC leadership, regional or provincial huddle.
Time is also put aside for recognition of positive efforts, and everyone also gets a safety check-in.
"We go around the circle, make eye contact with each individual person, and ask 'do you feel safe today? Is there anything you want to bring up?'"
The standardized Daily Safety Huddles are being rolled out at all WRHA sites.
#MHCFamily