Miriam Stobbe Reimer, Spiritual Care Associate, Spiritual Health Services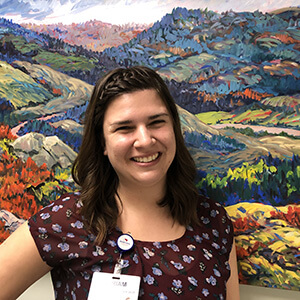 Miriam joined the MHC Family in fall of 2019, when she started her student practicum with the Spiritual Health Services team. In January 2020, Miriam stepped in to help cover a leave. She "helped wherever needed," working with residents at Misericordia Place (MP) as well as clients in transitional care units.
Miriam provided extra pandemic support at MHC until the end of this summer, completed her practicum at St. Boniface Hospital in fall and worked at Concordia Hospital in fall/winter.
"I'm glad to be back at Misericordia. I already knew most of the residents at MP, so it feels like I'm right at home!" said Miriam cheerfully.
As of February, Miriam is now a full-time, permanent member of the extended MP team. We are grateful to have her as part of the team, especially now, during what can be a challenging time, especially for those in long-term care. Spiritual health – perhaps, now more than ever – is important for overall wellbeing.
"When people hear spiritual health, the first thing most people think of is religion. Religion is a piece of it, but spiritual health is anything that helps bring meaning to one's life and helps build a sense of connection."
Miriam's role is to work with residents to help nurture a sense of purpose and joy. Sometimes this is simply sitting down one-on-one, sharing stories and favourite memories.
"My primary focus is one-on-ones with residents. I think nurturing the spirit is equally important for both residents and staff."
Throughout the course of the pandemic, Miriam notes that the most important lesson she's learned is "the essential need for community."
"MHC does well at building a sense of community. I know that I can lean on my coworkers and I'm here for when they need some extra help, too."
Keep COVID-19 informed by visiting: covid19manitoba.ca
#mhcfamily #healthcareheroesMB #covid19MB