Manitoba Parent Line
204-945-4777 • 1-877-945-4777 • Monday to Friday – 8 a.m. to 8 p.m.
A program of the Provincial Health Contact Centre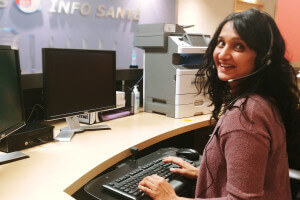 The Manitoba Parent Line connects callers to trained parent counsellors who provide free confidential assistance, information and support for child development issues and many common parenting concerns such as tantrums and  bedtime problems.
The parent counsellors also provide Triple P (Positive Parenting Program) consultation which is based on a set of easy, proven solutions and strategies to manage parenting challenges in a positive way.
Callers connecting to this line can also get direction and referrals to community agencies that offer both Triple P programs and other related parenting services and supports in communities throughout Manitoba.
In addition, parents can participate in a self-directed Triple P program which involves parents and caregivers going through a workbook primarily on their own with support of a Triple P counsellor if needed.