Roxanne Reich, Health Links – Info Santé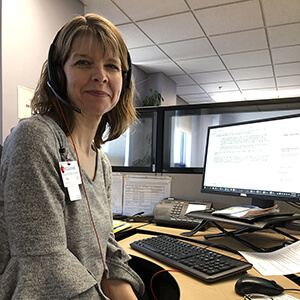 The COVID-19 pandemic is changing our world and health-care professionals are on the front lines.
Roxanne Reich trained at MHC to be a nurse in the 90s, and then left for 20 years.
"I always had in the back of my mind that I wanted to make my way back into Misericordia, and then I did in 2014."
She spent three years after her return working on an Interim Care Unit, and for the past three she's been helping Manitobans over the phone at Health Links – Info Santé.
With COVID-19 boosting call volumes, the Health Links – Info Santé staff has been reinforced with people from a variety of places. Nurses from different facilities, other areas of MHC, nurses who were retired, and even nursing students almost graduated from the University of Manitoba have joined the team answering calls on the dedicated COVID-19 lines.
For Roxanne, who handles the more complex health calls, it's been an interesting time of reconnecting with people from her past or people from around MHC who she otherwise seldom sees.
"It's like that saying about Winnipeg being a very small place and we all see each other around."
When Roxanne trained at MHC it felt like a family, and she says that feeling remains true today.
Her newly enlarged family at Health Links – Info Santé are also feeling the love and appreciation of their wider Winnipeg family.
"A lot of wonderful people who give us a call are just so thankful and appreciative of all the efforts everyone's making in the health-care system. And they voice that, which is really, really nice."
Keep COVID-19 informed by visiting: covid19manitoba.ca
#mhcfamily #healthcareheroesMB #COVID19