Siva Sreenu Pavan Gorantla, Sleep Disorder Centre to Health Links – Info Santé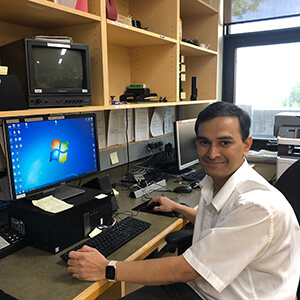 The COVID-19 pandemic is changing our world and health-care professionals are on the front lines.
On the morning of March 1, Siva Sreenu Pavan Gorantla was flying home from a vacation in New York City when the first case of COVID-19 was announced in Brooklyn, NY.
"As soon as I returned to Winnipeg, I called Occupational Health. Because I had no symptoms and it was before the 14-day self-isolation rule was announced, I was cleared to go back to work," says Siva.
Siva is a polysomnography technologist in the Sleep Disorder Centre at Misericordia Health Centre and at the time was also working in the ENT department at Health Sciences Centre.
As the pandemic evolved, non-essential surgeries and outpatient programs were paused throughout the province. While overnight sleep studies are temporarily suspended, Siva has been redeployed to Health Links – Info Santé, answering COVID-19 calls.
"Healthy sleep habits strengthen our immune system," says Siva, formerly a physician in India. "Understanding the pandemic is not a challenge for me."
Siva notes the team at Health Links – Info Santé has been very supportive and callers are generally appreciative.
"There have been some difficult calls that are hard to handle. People are scared because they have flu symptoms and assume it's COVID-19. I try to understand callers' anxiety and calm them down as best I can."
Keep COVID-19 informed by visiting: covid19manitoba.ca
#mhcfamily #healthcareheroesMB #COVID19