Tanya Kapelus – Operating Room to Health Links – Info Santé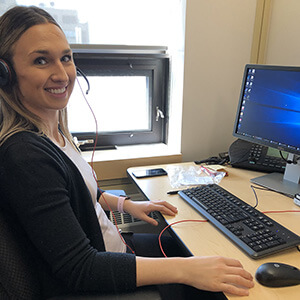 The COVID-19 pandemic is changing our world and health-care professionals are on the front lines.
Nurse Tanya Kapelus has left the operating room (OR) to help fight COVID-19.
Before the pandemic, she worked in one of MHC's five ORs where various eye and pediatric dental surgeries are performed. With non-essential operations now postponed, the nurse of two years is using her expertise to help field calls as an "extender," part of the Health Links – Info Santé team.
The provincial health call centre increased staff to handle extra volume during the pandemic, and Tanya says in the weeks since she began the numbers of calls and the wait times have both gone down.
She's grateful for the people she's working with, including some of her fellow OR nurses who share duties.
"When one of us gets a rough call we all sit and talk about it and talk about the advice we gave. It's really supportive. It's great."
Tanya says people are sometimes dealing with flu-like symptoms for weeks.
"A lot of people are describing their symptoms as, 'it's different, it's not like anything that I've ever had before.'"
It underlines the importance of staying home, she says, especially considering that some people can have COVID-19 and show very mild symptoms, or none at all.
"It just takes one person. That one person who thinks they have a regular cold, or think they're over whatever they had, and they go out. That could cause a wave (of infections)."
An online COVID-19 self-assessment tool is available to help Manitobans experiencing symptoms determine if they should contact Health Links – Info Santé or seek other medical advice.
Keep COVID-19 informed by visiting: covid19manitoba.ca
#mhcfamily #healthcareheroesMB #COVID19