Teresa Peterson, Easy Street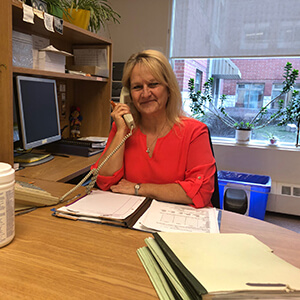 The COVID-19 pandemic is changing our world and health-care professionals are on the front lines.
"Although Easy Street is an out-patient program and clients aren't coming in now, I'm still providing therapy to all of my clients at regularly scheduled times," occupational therapist Teresa Peterson explains the effect of COVID-19 on MHC's unique rehabilitation program.
At Easy Street, clients usually practice the skills they need for independent living after a life-impacting health change such as an acquired brain injury or a stroke.
Located in the Misericordia Health Centre parkade building, Easy Street recreates an actual community environment – including a bank machine, car, grocery store and putting green – equipped to meet the challenges people face on a daily basis.
"Now all therapy is provided over the phone," says Teresa. "It's very client-centered and specific to each individual with continuous reassessment and monitoring – which can sometimes be very difficult to do when the person is not right in front of you.
"My caseload right now is of people with traumatic or acquired brain injuries so they need occupational therapy for cognitive retraining … We're working on orientation, memory, goal setting, problem solving among other things. With some of my younger clients we're progressing toward return to school or work and addressing things like budgeting and general self-management skills."
Teresa says a reduction in the interprofessional part of treatment can be difficult as social-distancing guidelines mean team members are not as easily available for discussion about clients: "We're still communicating, but in a different way now, as some colleagues are distancing in different buildings."
All of Teresa's clients have expressed sincere appreciation for the opportunity to continue their therapy. She says in these times of such uncertainty and fear, they are thankful to be able to progress and maintain hope in their recovery.
Teresa is also thankful and feels blessed to be able to continue to provide treatment for her clients, while looking forward to the day she can return to "in person" interactions.
Keep COVID-19 informed by visiting: covid19manitoba.ca
#mhcfamily #healthcareheroesMB #COVID19