Wilma Withoos, MDR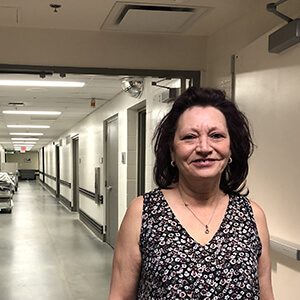 The COVID-19 pandemic is changing our world and health-care professionals are on the front lines.
With the onset of COVID-19 in Manitoba, things have definitely changed for the medical device reprocessing (MDR) department at Misericordia.
"We reprocess reusable instruments used for different surgeries," says Wilma Withoos, MDR Supervisor.
However, with conservation of certain items – primarily goggles, eye shields and hand sanitizer – the MDR department now has some new reprocessing duties.
"We started with hand sanitizer bottles," says Wilma, who found a solution to reprocess the pumps as well as the bottles.
Wilma estimates that her team has reprocessed 300 hand sanitizer pump bottles and wall dispensers to date. In addition, the MDR department has also reprocessed hand sanitizer bottles for Deer Lodge Centre and Riverview Health Centre.
All items that are reprocessed go through a multi-step washing and disinfecting process before they're ready to be re-used. This includes: a pre-rinse, wash, second rinse, thermal disinfectant wash with reverse-osmosis water, a one-minute dry at 190ºF and lastly, items are laid out to be dried with a non-lint surgical towel.
Once sanitized and dried, items are counted, bagged and brought to stores for re-distribution. Since April 1, the MDR department has reprocessed 11,707 items!
"We have a team of 7-8 people working staggered shifts every day, and with elective surgeries starting back up, our workload will increase."
As elective surgery slates increase at MHC, some work is adjusting back to "normal."
When asked what she's looking forward to most post-COVID-19, Wilma exclaims: "I'm excited to see my family in person and hug my grandchildren!"
Keep COVID-19 informed by visiting: covid19manitoba.ca
#mhcfamily #healthcareheroesMB #COVID19