Y Lam, Laundry and Linen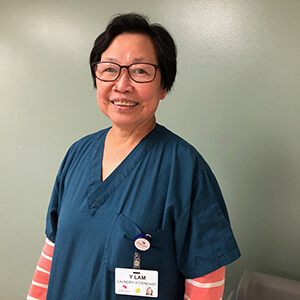 The COVID-19 pandemic is changing our world and health-care professionals are on the front lines.
Tuyet Lam has been at Misericordia for 40 years, first working in housekeeping and now with laundry and linen.
Tuyet – known as "Y" for short – launders linen and clothing for Misericordia Place and the Transitional Care Units. She then preps everything for the porters to deliver to residents' rooms.
"It's always busy and more busy now since COVID-19," says Y.
Y and the laundry department don personal protective equipment (PPE), including masks, eye shields, gowns and gloves. In addition to their usual loads of laundry, the team has been washing handmade masks donated by Face Masks for Manitoba, which are used for staff PPE training.
COVID-19 has brought many changes both professionally and personally for many. While Y notes that the laundry and linen staff have remained calm throughout the pandemic so far, she's had to make adjustments in her personal life.
"I hadn't seen my daughter who lives in Morden from March until May. We talked on FaceTime every night," she says.
Two of Y's three daughters also work in health care, so things have been quite busy for everyone in her family.
"For Father's Day we had a barbecue and we had everyone together – the whole family – for the first time since the beginning of COVID."
Keep COVID-19 informed by visiting: covid19manitoba.ca
#mhcfamily #healthcareheroesMB #COVID19