Ambulatory Care patients are part of the family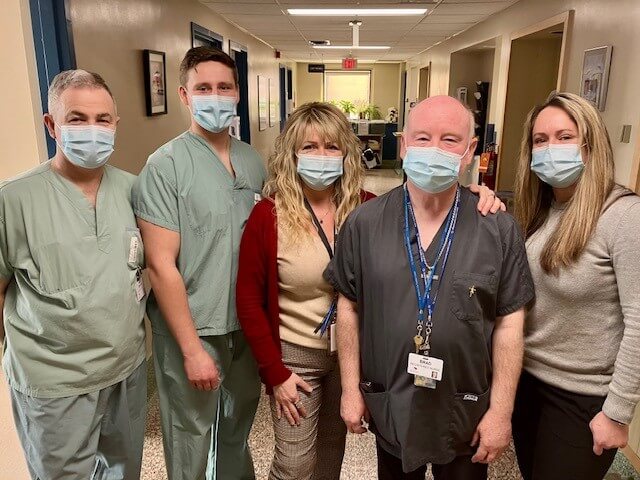 Whether it's the smiles from staff when you walk into the waiting area or the personal cards from patients posted on the walls, it's easy to see why the Ambulatory Care team at Misericordia Health Centre considers themselves a tight knit family.
"When I first worked here there were still nuns here, it was a long time ago," said Brad Black, a registered nurse in Ambulatory Care.
"But this has always been my home."
Black has been part of the Misericordia Health family for more than 20 years, working in various departments within the facility.
The Ambulatory Care clinics serve many patients from all walks of life – in the city and those who travel to the city from rural communities for care.
On Tuesdays and Thursdays, it offers diabetic foot clinics where patients are assessed for ulcers, Charcot foot fractures and other conditions that affect the foot related to diabetes. Orthopedic specialists are present in the clinic on Mondays and Wednesdays.
While there are similar services offered at other health facilities in Winnipeg, Black says many people choose to access care from MHC. He says it's about a sense of community.
"We work together as a team, and most of our patients come in regularly, we know them well, so they become part of our family," Black said.
"We're smaller, it's familiar, and everybody gets treated with respect."
The Ambulatory Care clinics have gone through many changes over the years. While it may be less busy due to a reduction in some services like Urgent Care, staff say the clinic is still vital to the community.
"Part of our clinic's role is treating diabetic wounds," said David Carroll who is a long-time orthopedic technologist at the clinic. "It's specialized care.
"We cast people for ulcers but also Charcot foot fractures which is quite serious as it can cause the bones in your foot to be displaced, so it's a very important program here."
Carroll says regular casting for ankle and wrists also occur. Knee and hip injections to deal with painful joints are common.
Rosa Turkula is the unit clerk who has been with the team for 33 years. She's known as the "gatekeeper" by her staff, and is the first face patients see when they walk in the clinic.
"I set the tone and greet the patients, and just make them feel comfortable," Turkula said.
"When they come in I already know who they are."
Her desk is adorned with thank you cards, photos and sweet messages from former patients and their families, many of them children.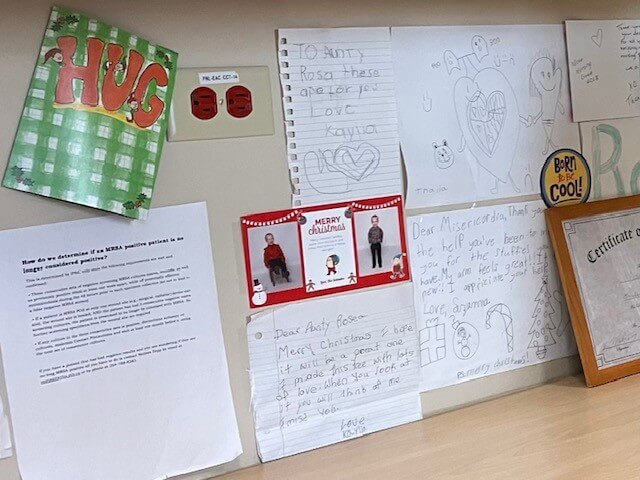 "I love all this," she said. "It's the little things like this you appreciate because you know they really love you here in the clinic."
Turkula said many of the younger patients appreciate the stuffed teddy bears she offers them while they wait to receive care.
"This started many years ago when we were super busy doing casting care with younger patients at the time, some as young as three years old," she said.
While the clinic doesn't often do casting services for kids today, she said she continues to offer stuffed animals to any child waiting for care at Misericordia Health Centre.
Turkula says the small but mighty Ambulatory Care team makes it easy for her to come to work every day.
"We have our down days but other days make up for it," she said.
"We all work together and help each other out, we care about our patients, it's just a great place to work."