Misericordia Place
204-788-8435 • 204-774-6938 • Jennifer Taylor, Director • FACTSHEET
COVID-19 MESSAGE
There is currently a COVID-19 outbreak at Misericordia Place.
RESIDENTS:
Total number of cases to date: 19

Number of active cases: 6
MP1: 0
MP2: 0
MP3: 6

Number of recovered cases: 10
Number of deaths: 3

STAFF:
Number of active cases: 5
Designated Family Caregivers are welcome at Misericordia Place. General visitors are currently not permitted, with exceptions for end-of-life on a case-by-case basis. We appreciate your understanding as we take every measure to protect our patients, residents, staff and each other.
More information can be found on our Family Updates page.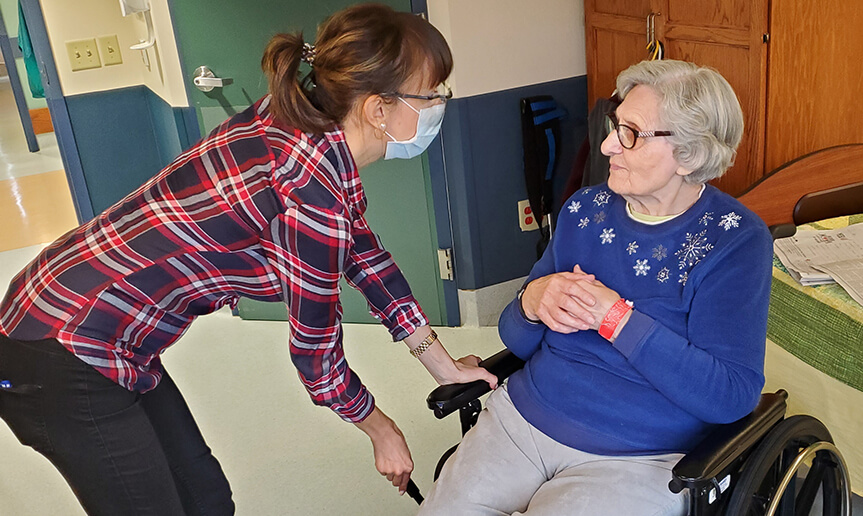 Misericordia Place is a 100-bed warm and inviting personal care home, providing quality care 24 hours a day.
All rooms are private, with wheelchair accessible washrooms, and are furnished with a bed and bedside table, wardrobe, dresser, chair and lamps.
Misericordia Place features activity rooms and a dining room that can be used by family and/or friends for special occasions. A small cozy library on the main floor, complete with fireplace and comfortable wingback chairs, is also available for residents and families.
There are a number of pianos at Misericordia Place. Residents and guests are encouraged to share their gift of music. Other special features include antique furniture, aquariums and birds donated by our Foundation.
Take a virtual tour of Misericordia Place, watch the video below:
---
Our Resident Care Managers
Click here to learn how to keep connected!
UNIT
MANAGER
PHONE / FAX
MP 1 and 3
Gayle Dyck
204-788-8453
Fax: MP1 204-774-6806 | MP3 204-774-6330
MP 2
Tara Keyser
204-788-8452
Fax: MP2 204-774-6404
Misericordia Place welcome information sheets: