Volunteer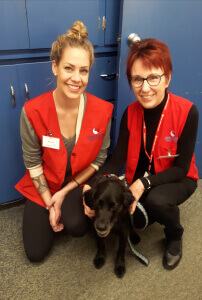 Thank you for your interest in becoming a volunteer at the Misericordia Health Centre!
Our most valuable resource are those people who commit their time and energy to improving the quality of life of those we serve.
Volunteers contribute to many areas at Misericordia Health Centre and Misericordia Place.
We have a diverse group of volunteers with a variety of skills and talents; their contributions are essential to operations at MHC and the health-care system overall.
What to expect when you apply
Step 1 – Applying
Applying to volunteer is much like applying for a job. We take many factors into consideration before accepting volunteers to assist with Misericordia programs. Because we take our responsibility for those in our care seriously, we have a screening process for all applicants based on application, references and interview.
Completing your application as thoroughly as possible will help us assess your volunteer interests with our needs in a health-care environment.
If you are under 18 years of age, MHC requires completion of the Parental/Guardian Consent form at the time of your interview.
Step 2 – The Interview
Once our office receives your application, a Volunteer Services staff member will call you to arrange a date and time for an interview and will ask you to bring up to three references (names and email addresses or phone numbers) at the time of the interview.
If you are under 18 years of age, you will also need to bring a completed Parent/Guardian consent form.
The interview is an opportunity for us to find out more about you and for you to ask any questions you may have about volunteering at Misericordia. We will discuss placements based on your interests and our program needs.
We will also discuss expectations of volunteers and the importance of confidentiality.
Step 3 – Screening
After your interview, a Volunteer Services staff member will contact your references.
Depending on the volunteer role(s) that you are interested in, a Criminal Record Check may be required. You will be notified of any required checks during your interview.
Step 4 – The Offer
If a successful match is made between your skills and abilities and an available position, Volunteer Services staff will offer you a volunteer position. If you decide to accept the offer, a start date will be determined.
If you are a student getting credit hours for your volunteering, it is your responsibility to track your hours to ensure you are meeting your school's requirements.
Step 5 – Training & Orientation
Before you begin your first shift, you will be provided with a volunteer identification badge, a uniform and a general orientation to our facility. You will then be set up to receive specific training for your volunteer position.
You are now ready to begin volunteering!
Want to volunteer?
Check out our current opportunities and then apply online.
If you are under 18 years of age…
You will need to complete and submit a Parent / Guardian Consent form.
If you would prefer to submit your application in person or by mail…
Please use the printable version of our Volunteer Application form.
CONTACT – VOLUNTEER SERVICES
Phone: 204-788-8134
Email: [email protected]