Diagnostic Imaging
204-788-8266 • Diagnostic Services, Shared Health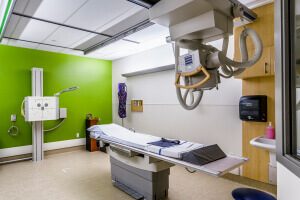 The Diagnostic Imaging department at Misericordia Health Centre offers a variety of diagnostic services:
X-ray
X-rays have been available at Misericordia Health Centre for more than 100 years. X-rays are one of the fastest and most pain-free ways for a doctor to look inside a patient's body. X-rays are used to examine bones and other organs, such as lungs, heart, and digestive system.
CT-scan
A Computed Tomography is an examination that uses specialized X-ray equipment to take detailed pictures of structures inside the body, including organs, blood vessels, bones and spinal cord. Some scans are infused, where a contrast material is injected into the blood to assess organs and structures that would otherwise not be seen – or to assess the function of certain organs.
---
Outpatient Centre
PATIENT INFO SHEET • CLINICIAN INFO SHEET • CLINICIAN FAQ
Misericordia is proud to offer extended hours for uninfused CT scans, including evenings and Saturdays, for patients' convenience. Patients with a requisition for a CT-scan at MHC can visit our Diagnostic Imaging department – no appointment required.
This walk-in service for uninfused CT scans that are not urgent is a first in Manitoba.
The Diagnostic Imaging Outpatient Centre has just been recognized by Manitoba Health, Seniors and Active Living as a winner of a 2019 Health Innovation Award for Patient-Centred Care.
Hours
Monday to Friday: 8 a.m. to 7 p.m.
Saturday 7:45 a.m. – 4 p.m.
Ultrasound
Diagnostic Ultrasound uses sound waves to obtain pictures of the internal structures and organs in your body. Most people know about ultrasound because it is used to capture pictures during pregnancy. But ultrasound is also used to look at many other organs such as the kidneys, liver, uterus, heart, and blood vessels.