Eye Care Centre of Excellence
Our dynamic Eye Care Centre of Excellence is the largest comprehensive surgical and treatment program in Western Canada.
We have almost 30 surgical ophthalmologists on staff – many with subspecialty training – serving Manitoba, Northwestern Ontario, the Territories and Nunavut. We perform more than 13,000 eye surgeries annually, including corneal transplants.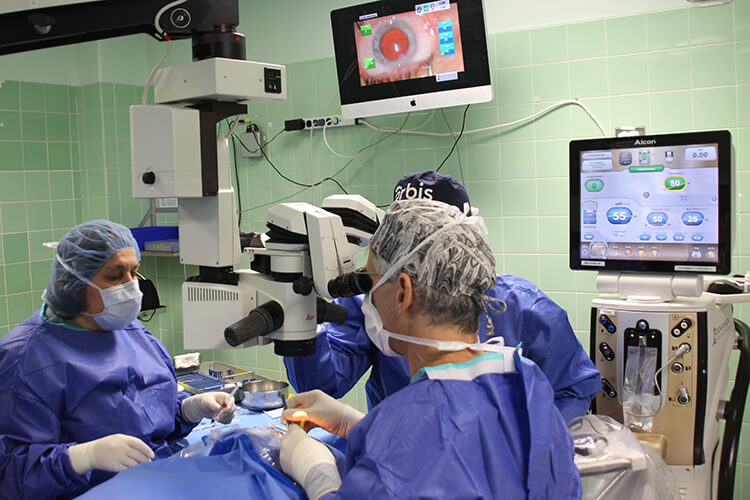 More than 40,000 patients are assessed and treated annually in our ambulatory eye clinics in the state-of-the-art Buhler Eye Care Centre. Our clinics offer specialized testing, such as fluorescein angiography and eye ultrasound, include residency teaching, oncology, macular degeneration and retinal – where intravitreal injections are used to administer medications to treat a variety of retinal conditions.
Our ophthalmologists provide 24-hour on-call services with 14 Ophthalmology Assessment Unit beds available.
Complementing our centre of excellence is the University of Manitoba Ophthalmology Residency Program, including a resident clinic and wet lab, where residents can practice surgical skills – a critical component of resident training. Residents, fellows and faculty have access to the lab which offers ample opportunity to hone different surgical techniques.
Support for you – and your family
Our Eye Care Centre of Excellence has a social worker available to support you and your family on psychosocial issues which could impact functioning, recovery and your general well-being and can assist in locating and arranging resources in the community to help you.
MHC nursing, social work and occupational therapy staff are also available to provide eye-related and health promotion/illness prevention sessions, eye care and adaptive counselling, glaucoma screening and post-discharge follow up.
---
Have you considered giving the gift of sight?
Registering online means your donation decision is always available to the medical team and your family.
Registering your intent to be a donor online only takes two minutes at Sign Up for Life.
---
More Information
Related Websites