Manitoba Retinal Screening Vision Program (MRSVP)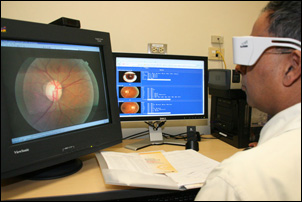 In partnership with the Burntwood and NOR-MAN regions, Misericordia Health Centre retinal specialists review digital photographs of individuals' eyes taken by specially trained nurses in those communities.
This program increases the early detection of diabetic retinopathy as well as other conditions without requiring the patient to travel to Winnipeg.
Ongoing monitoring of conditions means our retinal specialists are able to detect many eye diseases at much earlier stages and initiate treatment, often preventing vision loss that could lead to blindness.
Retinal Screening and Pregnancy: Information for Health-Care Professionals
Do you have diabetes? Have you had your eyes checked this year?