Angela Harrysingh, Social Work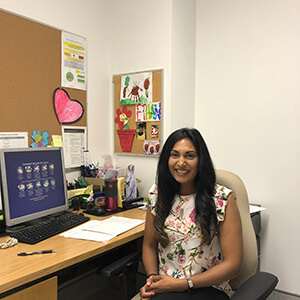 The COVID-19 pandemic is changing our world and health-care professionals are on the front lines.
Angela Harrysingh joined the MHC social work department in late 2019, returning to the workforce in a completely new role after maternity leave with her second child.
"I went from an office job to a health-centre setting – it was quite a change of pace," says Angela.
Formerly working at employment and income assistance, Angela now spends the majority of her days discharge planning for Transitional Care clients at Misericordia.
"When COVID-19 first hit, it was a big shock. I was scared," she says noting that because she'd never experienced anything like the current pandemic and there were many unknowns at first.
Due to the pandemic, Angela's day-to-day duties have come with added challenges.
"All meetings with clients' families are now by phone. I like to touch base with families right from the beginning in person, so it's been challenging to ensure the family feels involved."
Whether clients are going from transitional care at MHC to long-term care, independent living or supportive housing, due to COVID-19, family members or loved ones aren't always able to see apartments or housing in advance. Sometimes there was an option for virtual or iPad tours.
"I had a client who was set to move to assisted living, but they decided to move in with loved ones instead, so they would be able to have family and friends visit."
For some clients COVID-19 has been an extremely stressful and anxiety-inducing time, which can impact overall mental health.
"I've tried to remain as calm as possible. At the end of the day, I get to go home to my family. I can't imagine what it's like to not be with loved ones right now."
Keep COVID-19 informed by visiting: covid19manitoba.ca
#mhcfamily #healthcareheroesMB #COVID19