Antonio Grossi, Rehabilitation Services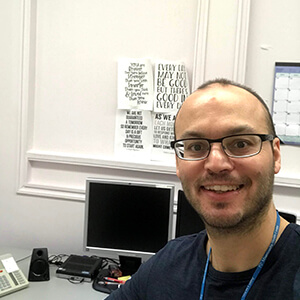 The COVID-19 pandemic is changing our world and health-care professionals are on the front lines.
Rehabilitation continues to be an important component of care to new clients admitted to the transitional care units.
Tony Grossi works full time as a physiotherapist on MHC's transitional care units, alongside a team of interprofessional rehabilitation specialists.
"When a new client is admitted, we need to assess mobility and transfers. We're still doing this during COVID-19 but there are restrictions in what we can do in order to prevent the spread," says Tony.
He notes that social distancing is being maintained, where possible, and staff are wearing the required personal protective equipment. The rehab team has worked collaboratively to find solutions that fit the COVID-19 restrictions.
"Some new things we've been implementing include creating exercise handouts for clients, so they can do exercises independently in their rooms," says Tony.
Additionally, some "other duties as assigned" have been added to Tony's days. And he's happy to be able to assist keeping clients in touch with their families at this time.
"We're the eyes and ears for clients' families," says Tony on coordinating phone calls, FaceTime visits and sending photos.
Keep COVID-19 informed by visiting: covid19manitoba.ca
#mhcfamily #healthcareheroesMB #COVID19