Brenda Rapinchuk, MHC for Lungs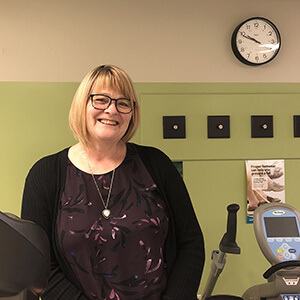 The COVID-19 pandemic is changing our world and health-care professionals are on the front lines.
MHC for Lungs is an outpatient program at Misericordia, providing education to people with chronic lung conditions. The goal of the eight-week group sessions is to give clients the knowledge and resources they need to self-manage.
"Things have really changed since COVID-19. Normally, I'd see people in person to do an assessment," says Brenda Rapinchuk, a respiratory therapist at MHC for Lungs.
Now that clients aren't coming on-site due to COVID-19 measures, Brenda is faced with the challenge of re-configuring MHC for Lungs programming. Her goal is to continue to be able to provide education and support for all clientele.
"A lot of clients don't have the technology to video chat. We've been sending correspondence via mail or email," says Brenda.
Currently there are two group sessions Brenda is working with, and referrals are continuing to come in. Brenda notes that one of the biggest challenges is teaching over the phone.
"Some of the concepts are difficult to teach in person and can be even harder over the phone. Having a group together is beneficial for people to learn from one another," she says.
Another concern that's been on Brenda's radar is spring cleaning. Cleaning products can be very harsh on lungs, even for people who don't have a chronic lung condition. Everything can become an irritant.
"With people staying home, bored, they're feeling compelled to organize and spring clean. So my job is to help educate clients on what's safe for them to do. They need to take precautions and reduce exposure," says Brenda. She follows up: "Especially bleach is nasty any time, for anyone."
Brenda and the MHC Lungs team are here to help current and past clients with questions about their condition given COVID-19. These individuals already deal with respiratory symptoms.
"We're moving forward all the time – COVID-19 or not."
Keep COVID-19 informed by visiting: covid19manitoba.ca
#mhcfamily #healthcareheroesMB #COVID19