Brenda Wong, Diagnostic Imaging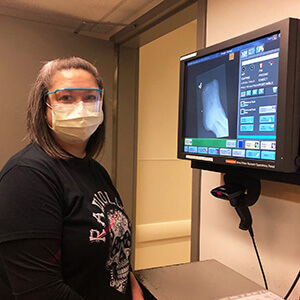 The COVID-19 pandemic is changing our world and health-care professionals are on the front lines.
Brenda Wong is doing her best to stay physically distanced from others, but it's not always possible.
As a senior technologist in MHC's diagnostic imaging department she sometimes has to get close to patients, like when IVs are administered for an infused CT-scan.
"The only way to see blood vessels is to enhance them with what we call IV contrast," says Brenda.
She and her coworkers in the department, which also performs X-rays and ultrasound diagnostic imaging, take precautions with gloves, masks and face shields, and are maintaining as much physical distance as possible.
"It can be stressful, but we don't show it. We all want to provide the same safe and comfortable patient experience (pre-COVID-19) for everyone involved."
Changes in the department due to COVID-19 include the postponement of non-essential scans and reduced hours, including the suspension of walk-in CT-scans at the department's outpatient centre, which was recognized last year by Manitoba Health, Seniors and Active Living with a Health Innovation Award for Patient-Centred Care.
Keep COVID-19 informed by visiting: covid19manitoba.ca
#mhcfamily #healthcareheroesMB #COVID19