David Carroll, Ambulatory Care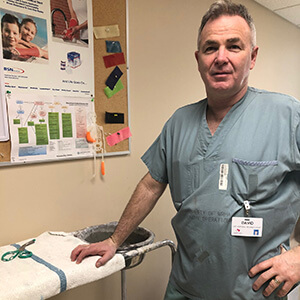 The COVID-19 pandemic is changing our world and health-care professionals are on the front lines.
David Caroll's years of experience in the health-care field hold him in good stead in dealing with COVID-19.
"There's a lot of confidence in how we're taught to approach patients and take care of situations. We're well-supported in that way," says David. "There's not a sense of fear, just a sense of responsibility. Do what you're taught to do."
As an orthopedic technologist in MHC's Ambulatory Care Clinic, he does things like casting limbs, splinting and diabetic wound care.
"Also, basically assisting the doctors … taking stitches out, removing staples, preparing patients to see the doctor."
COVID-19 means more hand washing, and cleaning, masks, goggles, and reading and carefully following new health-care directives.
"Beyond that, you just have to relax," says David. "You've done your vigilance with patients and between patients."
David's philosophy at work is something like a worldview that many people strive for in their lives: "You've controlled as much as you can control, so there's a security in that."
Keep COVID-19 informed by visiting: covid19manitoba.ca
#mhcfamily #healthcareheroesMB #COVID19