David Rowe, Social Worker, Social Work Department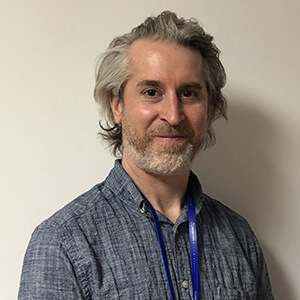 "I usually go into the day with an idea of what's going to happen, but there's always the likelihood that something comes up that takes precedent over everything else," says David Rowe, social worker for Transitional Care Unit (TCU), Cornish 6.
David joined the MHC social work team in August 2019 and works alongside Crystal Cuthbertson-Black (Cornish 2) and Angela Harrysingh (Cornish 5), to cover all clients on the three TCUs. While the average age of Cornish 6 clients is 75 years old, David has worked with individuals in their twenties.
"For TCU clients, there's no clear-cut disposition, and some individuals have quite complex needs, so we require more time for assessment," says David.
For assessment, David will first see clients with their families to get a good sense of what can be provided to them at MHC and how we can help in all areas of life. He works collaboratively with other teams, such as the MHC allied health team, nursing, homecare and long-term care, to determine the best disposition plan. He also determines resources that clients require once they leave MHC and transition to independent living, assisted living or in some cases, personal-care homes (PHC)s. Resources can include things like Lifeline, Meals on Wheels, Employment and Income Assistance, a family doctor, or if needed, community support workers.
"One of my biggest highlights as a social worker is seeing someone who's worked so hard and successfully returns safely to their home environment."
It's not always possible to transition back to an independent home environment based on clients' unique needs. Even for clients who need a more supportive environment – PCH or supportive housing – due to COVID-19 restrictions, David has seen people opting to live with family during this time.
The pandemic has added challenges to David's day-to-day work, such as delays on receiving paperwork that will help clients gain access to resources and supports. As Allison Lynch Deighton, manager of social work at MHC says, "much of what we do as social workers is behind-the-scenes."
Despite any obstacles faced due to the pandemic, David and the extended MHC social work team work tirelessly to help clients and residents on their terms to live their fullest lives.
Keep COVID-19 informed by visiting: covid19manitoba.ca
#mhcfamily #healthcareheroesMB #covid19MB