Dr. John Reda, CMO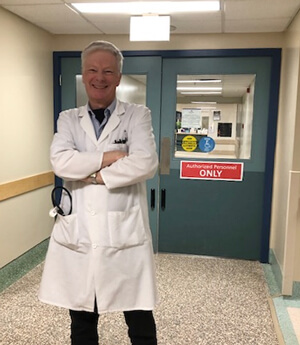 The COVID-19 pandemic is changing our world and health-care professionals are on the front lines.
Dr. John Reda is MHC's Chief Medical Officer. He's a wearer of many hats during this crisis: busy communicating with all MHC physicians, helping implement elective surgery restrictions, assessing emergency eye intake patients – as well as caring for transitional care patients and additional doctors' long-term care patients. A number of MHC doctors are currently under self-isolation measures after returning from international travel.
Here's what Dr. Reda had to say today at MHC's incident command meeting: "Better to have severe restrictions in place now so COVID-19 can be over sooner – rather than have a smouldering infection."
Dr. Reda has worked at Misericordia for 30 years. And he's still smiling.
#mhcfamily #healthcareheroesMB #COVID19