Dr. Oluwadara Onasanya, Eye Care Centre of Excellence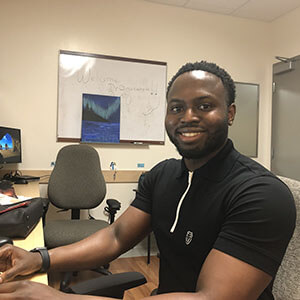 Resident ophthalmologist Dr. Oluwadara (Dara) Onasanya always knew he wanted to perform surgeries, but he was unsure of what his area of specialty would be. By the end of first year medical school at the University of Saskatchewan, he decided on ophthalmology. He landed on this decision after shadowing surgeons and talking with his father, a doctor of obstetrics and gynecology.
The COVID-19 pandemic has changed how this year of residency has looked for Dr. Onasanya at the Eye Care Centre of Excellence. For example, elective surgeries were temporarily suspended, so every day was an eye emergency clinic. Anyone who had urgent eye issues was sent to the Blue Desk at MHC, rather than to individual ophthalmologists' offices.
"Eight-to-five, we'd see whatever eye emergencies came through our doors. It was a great opportunity to learn," says Dr. Onasanya.
For eye emergencies, patients are first assessed by the critical response team (CRT) at MHC. If the CRT can manage the concern, they'll do so, and if not, the patient will see the ophthalmologist on call.
"It's our job to educate and reassure patients as doctors and health-care professionals," says Dr. Onasanya on addressing patients' worries and concerns about eye conditions.
Now that things have calmed down after the height of COVID-19, Dr. Onasanya spends his mornings seeing patients who have been referred to the Eye Centre by a family doctor or optometrist. He first sees patients one-on-one, then in consultation with a staff ophthalmologist. His afternoons are spent at private clinics throughout the city.
When he's not seeing patients at the Eye Centre, you can find Dr. Onasanya on the court, shooting hoops, hitting the gym or gaming.
Keep COVID-19 informed by visiting: covid19manitoba.ca
#mhcfamily #healthcareheroesMB #COVID19