Janice Glays, Entrance Screening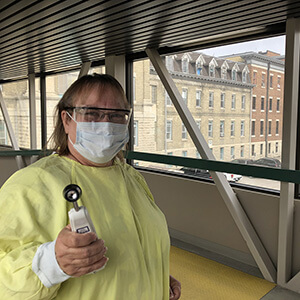 The COVID-19 pandemic is changing our world and health-care professionals are on the front lines.
"I was told that MHC was like a family; I see that first-hand now. I'm honoured to greet all the staff coming into work each morning – they are all so lovely," says Janice Glays from her screening post on the Misericordia Health Centre overpass above Sherbrook Street.
Janice was retired, but when she heard that MHC was looking for assistance dealing with the COVID-19 pandemic, she decided to step out of retirement and up to the plate.
"I'm just so glad I'm able to help during this time! I signed up to take COVID-19 screening calls in Health Links – Info Santé," says Janice, "and then transitioned to door screening when that started. I already knew all the screening questions from my time at Health Links."
Janice has taken all the changes associated with screening at entrances in stride. First she was asking patients screening questions. Then she was asking staff screening questions. Nowadays she's wearing full personal protective equipment (PPE) while taking staff members' temperatures.
"I'm happy to be part of keeping everyone safe. I'm familiar with the PPE process from working at St. Amant years ago," she says with a smile, recounting her years as a health-care aide.
Janice is thankful staff are so pleasant as they are getting screened. "Everyone understands how important this is."
Janice shares a personal tidbit about her first connection to Misericordia: "My daughter Kris was 18 days overdue and I was supposed to give birth at St. Boniface Hospital, but they had an emergency so I was re-routed to Misericordia. And now my daughter works here!"
Keep COVID-19 informed by visiting: covid19manitoba.ca
#mhcfamily #healthcareheroesMB #COVID19