Jimmy Varga, Finance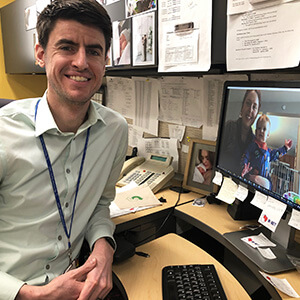 The COVID-19 pandemic is changing our world and health-care professionals are on the front lines.
For Jimmy Varga, MHC's director of finance, it's almost business as usual in the finance department as bills still need to be paid and staff hired as the COVID-19 situation continues to evolve.
"It's year end, so this time of year is always busy," says Jimmy. "Plus, we are now tracking COVID-19 expenses separately from the rest of operations, in terms of salary and supply costs."
"The Provincial Health Contact Centre has been most impacted with the hiring of close to 70 new COVID-19 screeners as casual positions within Health Links – Info Santé."
Residents and families who usually visit the finance department in person to make payments are now being guided to mail in cheques, pay over the phone using credit card or set up recurring direct deposits.
"I've also noticed everyone is washing their hands more regularly in the department," says Jimmy with a laugh.
On a more personal note, Jimmy enjoys checking in on breaks with his wife to see how she is faring at home caring for their 10-month-old Elias, who is just starting to wave.
Jimmy's finding it hard not being able to take Elias to visit grandparents – in particular Jimmy's Mom, who is a health-care aide in a Winnipeg emergency department – for everyone's safety.
Keep COVID-19 informed by visiting: covid19manitoba.ca
#mhcfamily #healthcareheroesMB #COVID19