John Beilman, Environmental Services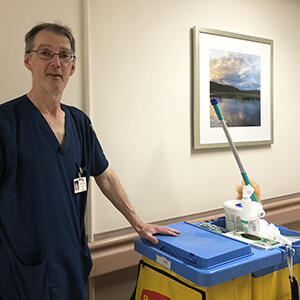 The COVID-19 pandemic is changing our world and health-care professionals are on the front lines.
"I've never experienced anything like this in my life. You get used to doing things for decades," said John Beilman, on the COVID-19 pandemic and its impact on Misericordia.
"Each cleaning staff member typically has their floor or area to clean, but when I'm paged, it can be anytime, anything, anywhere."
Nowadays there is an increased need to gear up in personal protective equipment (PPE) for terminal cleaning of isolation rooms. PPE includes gloves, a gown and a mask, to protect patients and staff.
John has been part of the MHC environmental services team for more than four decades, starting as part-time staff, working weekends.
The environmental services team is always diligent and conscientious about deep cleaning, but COVID-19 has presented different work like, "We took half of the chairs out of the cafeteria, and spaced them," said John about COVID-19 procedures, including social distancing.
Keep COVID-19 informed by visiting: manitoba.ca/covid19
#mhcfamily #healthcareheroesMB #COVID19