Karen Loughlin, Operating Room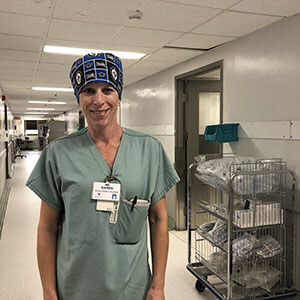 The COVID-19 pandemic is changing our world and health-care professionals are on the front lines.
"We're a close group, a family," says Karen Loughlin, clinical resource nurse (CRN) on the operating room (OR) team at Misericordia.
Karen has had many roles within the OR team, starting as an ophthalmic sedation practitioner, nurse and now her current role, CRN. As the CRN her duties on the average day include: setting up rooms, checking supplies and staffing, look for any changes from the previous day as well as helping relieve staff breaks.
With the onset of the pandemic, the OR shut down and things looked a lot different on the fourth floor of the Cornish building.
"COVID-19 brought constant change. What we did one day we couldn't do the next day," says Karen.
The OR went down to one room and three nurses, with many team members being deployed to other areas at MHC, including Karen, who helped with entrance screening.
As slates re-open as per Provincial directives, OR staff are adjusting to the new normal. Recently the pediatric dental surgery program started back up.
"Nurses have to wear a half respirator and full PPE. It's hard on your face, but the nurses are complete rock stars."
Karen is looking forward to getting the waitlist down and having patients in for eye surgeries.
"Things have been challenging both personally and professionally, but throughout this whole time my kids have been home and we've all been healthy."
Keep COVID-19 informed by visiting: covid19manitoba.ca
#mhcfamily #healthcareheroesMB #COVID19