Mirna Alberto, Volunteer Services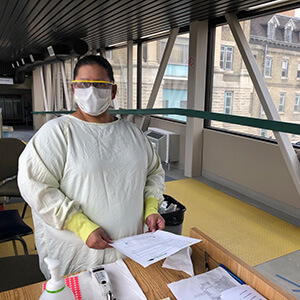 The COVID-19 pandemic is changing our world and health-care professionals are on the front lines.
As a Volunteer Services Coordinator at MHC, Mirna Alberto is used to working closely with about 250 active volunteers throughout a year.
Due to COVID-19, all volunteer participation at MHC has been put on hold as a safety precaution.
"The volunteer services' offices went from being a beehive to being very quiet," says Mirna, who has been working at Misericordia for almost 22 years.
Volunteers at MHC perform important roles like help with way-finding, deliver ice-water and newspapers to residents, email residents' families, run the gift shop, help with spiritual care and recreation activities – and so much more.
Mirna and others at MHC are now working to cover some volunteer roles, as well with new roles like the COVID-19 screening at entrances for health-centre staff.
As for her MHC volunteers, Mirna wishes for them all to, "just stay safe and well and healthy and socially distanced, for sure."
She also has a message of gratitude to MHC volunteers—and an eye to the future:
"Thank you for continuing to be part of the Misericordia family. You are missed, and we recognize the difference you make. We will welcome you with open arms once this is all over."
Keep COVID-19 informed by visiting: covid19manitoba.ca
#mhcfamily #healthcareheroesMB #COVID19