Mitch Rouire, Storm Café MHC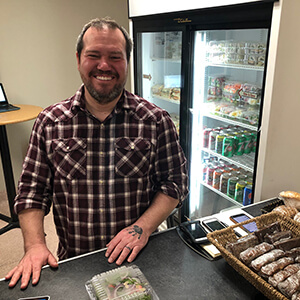 The COVID-19 pandemic is changing our world and health-care professionals are on the front lines.
Storm Café MHC opened March 24, 2020 in the midst of the COVID-19 pandemic.
"We already had the contract signed to open in the spring," explains Mitch Rouire, co-owner with his wife Jennifer Clark-Rouire, a professional curler. "MHC asked if we could come in early to feed staff working extra hours … and with so many new Health Links – Info Santé staff and most restaurants being closed in the neighbourhood."
Mitch says his Misericordia experience has been "awesome" so far with incredibly friendly staff and so easy to deal with in terms of getting the café up and running.
It's still very much a work in progress as he expands slowly and looks forward to upcoming renovations to the "seating area" of the cafeteria.
Storm Café MHC will have a more defined and smaller footprint than its current space as MHC develops a more welcoming open-concept shared space for staff and the public alike. Today, Mitch's decorations include colourful drawings from sons Lucas, 12, and Felix, 9.
Storm Café MHC opened with a "grab-and-go" cold menu items prepared offsite: baking, salads, sandwiches and wraps available during the day in the café and after hours in Mitch's vending machine in the cafeteria seating area.
Mitch already feels like a member of the Misericordia family and was happy to offer our Foundation a reduced price on meal coupons for every MHC staff member, generously donated by Winnipeggers to the MHCF COVID-19 relief fund.
With the go-ahead from the health inspector, Mitch was able this week to begin offering limited hot items such as burgers and fries made from scratch and the classic 'BOB."
"I was going to offer frittata for breakfast," said Mitch, "but at least 40 staff told me I had to have a 'Breakfast on a Bun' on the menu."
Mitch is always looking for menu suggestions and encourages staff to share with him their favourites. He says he happened in to catering quite by chance after running the business side of Festival de Voyageur for years.
"Before buying Storm Catering, which catered the Festival, I had zero food experience," he says candidly. His family catering business expanded into a variety of other venues, such as the Seven Oaks Wellness Institute, which are all now closed due to the COVID-19 restrictions.
These days he's happy to be at MHC every day.
"While I'm here, Jenn is at home dealing with the home schooling in French," says Mitch with a smile. "There a lot of Google translate going on."
Storm Café MHC hours are currently Monday-Friday 7:30 a.m. – 2 p.m. with the intention to expand hours to later times and weekends. For daily specials, follow Storm Café MHC on Instagram.
Keep COVID-19 informed by visiting: covid19manitoba.ca
#mhcfamily #healthcareheroesMB #COVID19