Muriel Torrato, Health Information Services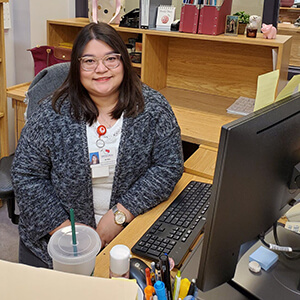 The COVID-19 pandemic is changing our world and health-care professionals are on the front lines.
Muriel Torrato, Health Information Analyst, is part of the Health Information Services (HIS) department responsible for providing accurate data for research, reporting and helping support quality patient care at MHC. COVID-19 has presented some new challenges for the HIS team, including new guidelines for coding.
"COVID-19 presented a lot of new information. The Canadian Institute for Health Information provided international coding direction via World Health Organization for confirmed Coronavirus cases," says Muriel. "It's all been interesting for my job."
Part of the HIS department's COVID-19 planning was moving Ophthalmology Assessment Unit to the fourth floor and adding beds into the ADT system, where numbers are extracted for reports. Respite Care beds were also converted to Transitional Care Unit beds. Muriel says: "This was actually the biggest challenge for me as an analyst. It's been challenging to keep up with all the changes."
Another area that has changed in Muriel's department is requests for health information. People can still request their health information – whether for personal interest or medical/legal correspondence – but in-person pick-up has been suspended due to visitor restrictions.
Throughout COVID-19 the HIS team has been diligent about keeping their work spaces and high-touch areas clean.

"Even before area cleaning time was enacted, we created a daily checklist to ensure our space was sanitized regularly," she says.
On a more personal note, Muriel mentions that her husband moved to Winnipeg from the Philippines around this time last year: "It's a good thing we got all the paperwork done earlier, rather than later."
When possible, Muriel hopes to travel, noting that right now it's important to stay optimistic.
"I'm excited to go on a road trip and experience more of Canada with my husband!"
Keep COVID-19 informed by visiting: covid19manitoba.ca
#mhcfamily #healthcareheroesMB #COVID19