Peggy Mayham, Clinical Resource Team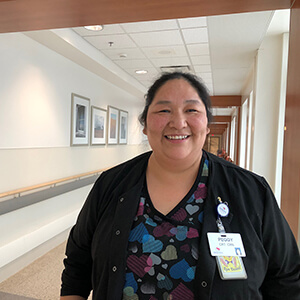 The COVID-19 pandemic is changing our world and health-care professionals are on the front lines.
Peggy Mayham, a Clinical Resource Team (CRT) nurse, has many stories to tell about the last three months since the COVID-19 pandemic was declared.
Right away, she put her name forward to assist the Health Links – Info Santé team with their COVID-19 screening calls.
"It's hard to describe what it was like," says Peggy. "There was a 2-hour wait time and the call volumes kept increasing. There was a lot of fear and uncertainty in the voices of the Manitobans calling in."
The CRT practices changed immediately as well. This 24/7 unique team at Misericordia has a variety of roles, including handling emergency eye intake patients and responding to codes such as a Code Blue, which necessitates face-to-face patient care.
"We wore PPE right away," says Peggy, "and did a lot of preparation work to ensure safety, like preparing patients rooms and setting up an isolated waiting room."
A lot of Peggy's role was easing patients' fears and offering calm reassurance to accompanying family members – and often to other staff.
"We're all in the same boat," she says matter-of-factly.
One exciting element COVID-19 brought to MHC was an enhanced collaboration between the CRT, the University of Manitoba Ophthalmology Residency Clinic, and the ophthalmology on-call team.
"Typically we're more separated," explains Peggy, "with most ophthalmologists at outside offices.
"One day, we had a patient present with a retinal detachment. The CRT referred him to the resident on call. The patient was then seen by two other specialists at MHC and had surgery the same day – saving his sight.
"I'm proud of how our entire team here at MHC came together and adapted to all the challenges within this unique fluid environment of COVID-19. We worked exceptionally well together to protect our patients and the public while simultaneously working to ensure our own safety by following policies and procedures."
On a more personal note, Peggy hails from Split Lake Tataskweyak Cree Nation in northern Manitoba. She moved to Winnipeg for her daughter to attend high school. While her daughter was in high school, Peggy completed her nursing degree, graduating in 2005.
"I thought I would stay five years at most at Misericordia," she says with a smile. "It's been 15. I worked for 12 years in Urgent Care before moving to the CRT. I enjoyed working with my colleagues in Urgent Care. They became my work family, so the decision to stay long term was an easy one.
"I'm also a night person, so I adapted to shift work well!"
Keep COVID-19 informed by visiting: covid19manitoba.ca
#mhcfamily #healthcareheroesMB #COVID19