Reghan Scaletta, Human Resources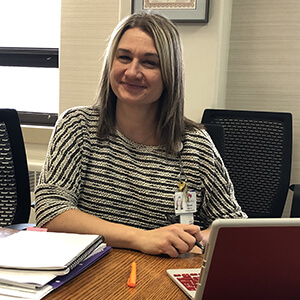 The COVID-19 pandemic is changing our world and health-care professionals are on the front lines.
"I'm not only doing my 'normal' job," says Reghan Scaletta, MHC's director of Human Resources, trying to describe the COVID-19 impact.
As "Planning Chief" in Misericordia's Hospital Incident Command System (HICS), which was activated when the pandemic was declared, Reghan is responsible for site staffing planning and Occupational and Environmental Safety and Health support and protocols. All of Misericordia's Senior Leadership Team have key roles in both ensuring site safety and implementation of Shared Health/Public Health directives.
Reghan was actually in Arizona on a family vacation when the virus started to impact Manitoba.
"I arrived home the day the province issued mandatory 2-week isolations," she recalls. "It was definitely challenging having everyone at home all at once, but it helped being together and I was grateful to be able to explain to the kids what was happening in real time."
With COVID-19 changing workflows dramatically, the HR team has been extremely busy on-boarding new Health Links – Info Santé and entrance screening staff, organizing and transitioning redeployed and return-to-work staff, reporting staff illnesses, supporting volunteer services and much more.
"I want to thank the staff who have stepped up above and beyond to help MHC out during this pandemic," says Reghan. "Staff who have flexed hours, helped out in other areas that aren't their usual area of work and doing anything that is required to ensure our patients and residents continue to receive the best care."
Keep COVID-19 informed by visiting: covid19manitoba.ca
#mhcfamily #healthcareheroesMB #COVID19