Sharon Constant, Information Desk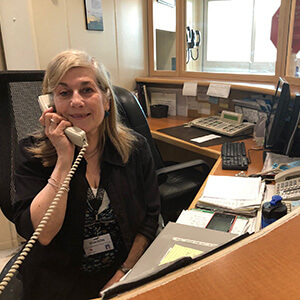 The COVID-19 pandemic is changing our world and health-care professionals are on the front lines.
Sharon Constant has been part of the Misericordia family for 39 years. Her duties used to include the mailroom and driving the hospital van, but today, as a communications clerk, it's all switchboard.
The arrival of COVID-19 has brought new challenges in the communications area.
"The first week (of COVID-19), while Health Links – Info Santé was getting such an abundance of calls, my whole switchboard went down."
Thankfully it was restored quickly, and these days she says "they've got all their ducks in a row."
Everyone in the health centre is, "working as a team," to face the COVID-19 crisis and keep patients and each other safe, Sharon says.
"Which is a big thing. We're the Misericordia family."
Keep COVID-19 informed by visiting: covid19manitoba.ca
#mhcfamily #healthcareheroesMB #COVID19