Shauna Courchene, Patient Registration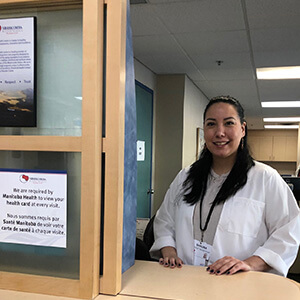 The COVID-19 pandemic is changing our world and health-care professionals are on the front lines.
Patient registrar, Shauna Courchene, has been putting in some extra shifts at Misericordia's patient registration desk. COVID-19 has brought new screening procedures and safety protocols that are ever-changing.
"Often we're the first checkpoint for patients after an initial screening at an entrance," she says.
"We register them before they go up for surgery or any minor procedures. Also our emergency eye care."
Patients have been coming in a little more nervous during the COVID-19 outbreak, especially older people.
"It puts a smile on my face when they say, 'You're so cheerful.'
"It's our responsibility and dedication to make sure all patients and their families feel safe when they're coming in."
Shauna says the patient registration team takes care of each other. She usually starts, and ends, her day checking in with everyone to make sure they're feeling OK.
"I feel like we're all in this together."
Keep COVID-19 informed by visiting: covid19manitoba.ca
#mhcfamily #healthcareheroesMB #COVID19