Shery McManus, Recreation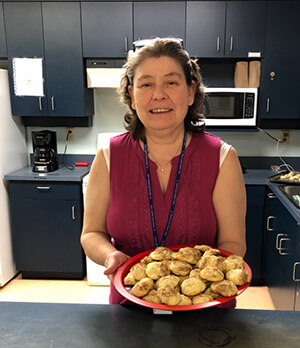 The COVID-19 pandemic is changing our world and health-care professionals are on the front lines.
Shery McManus has worked at Misericordia Health Centre for 30 years. She started her MHC days in the housekeeping department, spent 15 years working at Misericordia Place and the last five years she's been a part of the PRIME recreation team.

Now with PRIME having a limited capacity due to the COVID-19 pandemic, Shery describes her role as "floating." She goes to where Misericordia long-term care programs and residents need her. At this time, it's Misericordia Place.
"Feels like I'm going home to Misericordia Place," said Shery.
Misericordia Place is somewhere she already knows, but the residents don't know her…yet.
"I baked cookies for the residents at Miz Place. They'll get to know me and I'll bribe them with cookies," she jokes.
Some residents are feeling scared and uncertain about everything that's going on in the world right now. And that's when recreation staff, like Shery, come in to support residents' needs. Older adults in long-term care can face social isolation – they may be separated from their spouse and friends.

"Recreation staff are there for your family member, when you can't be there," said Shery.

With long-term care facilities suspending visitors, MHC recreation staff is focusing on one-on-one interactions with residents. The goal is to find activities residents like and recreate the feelings and sense of value that those activities bring. Additionally, iPads are being set up so residents can do video calls with friends and loved ones.
Keep COVID-19 informed by visiting: manitoba.ca/covid19
#mhcfamily #healthcareheroesMB #COVID19