Successful peer support program to continue in TCUs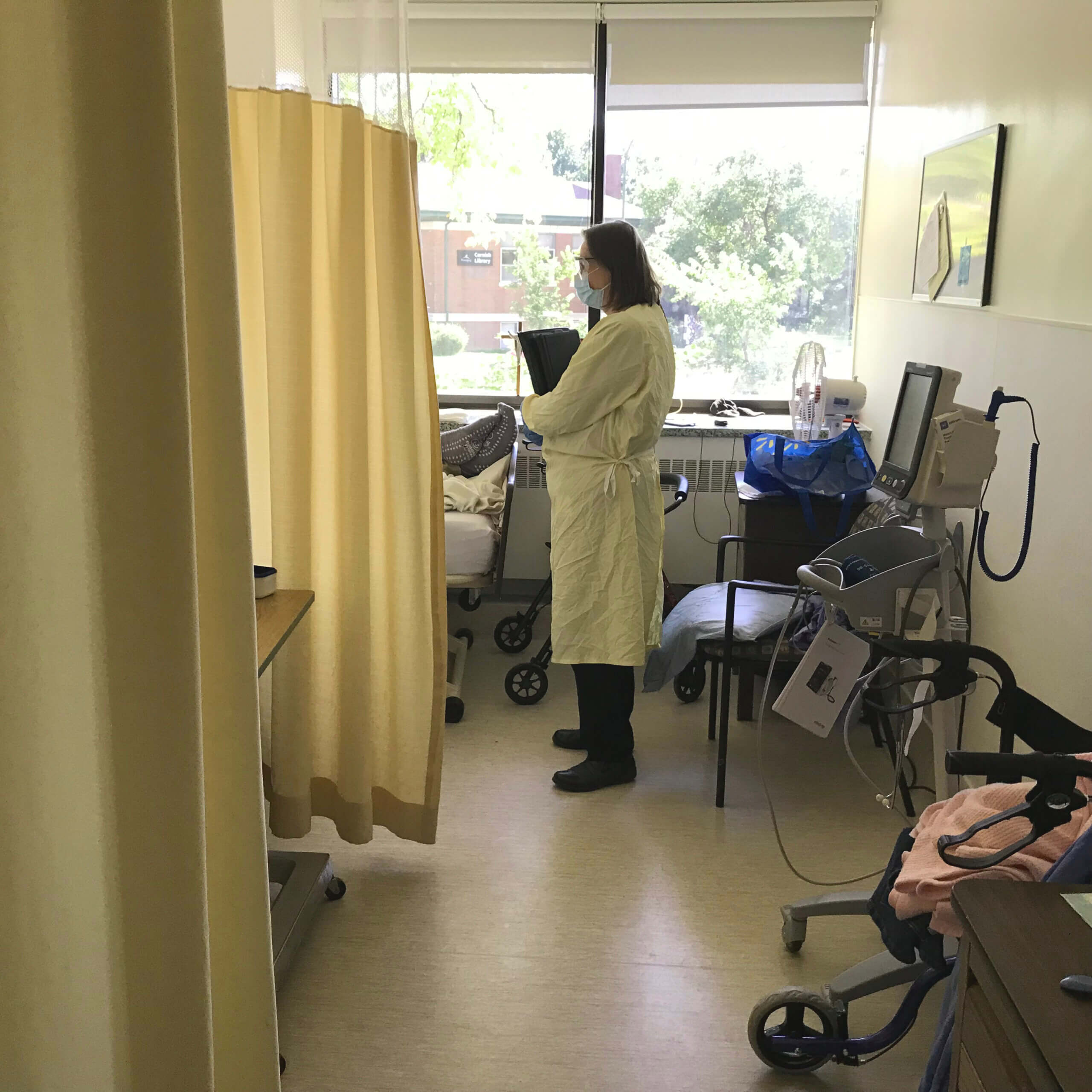 Jackie Heidinger has been making important connections with Transitional Care Unit clients at MHC, and she will be making more.
Jackie is the Peer Connections Manitoba (PCM) peer support worker who has been lending her ear and open heart to TCU clients seven hours a week since January 2022 as part of a six-month pilot project.
"The program was a success, and we are happy to be able to continue the partnership going forward," says Jennifer Klos, MHC recreation manager, adding that the program is slated to continue for at least another year thanks to the generosity of Misericordia Health Centre Foundation donors.
Sean Miller, executive director of PCM, says Jackie has "an incredible ability to be responsive in the moment…she's quick to solve any challenges in communication, she's got such a gentle spirit and it's evident that she genuinely cares for people."
In the first two months of the program, Jackie brought that gentle spirit to bear with 55 TCU clients she connected with.
Jackie says she finds peer support work "personally meaningful and professionally fulfilling for me. I am thoroughly enjoying working at MHC for I have many conversations about hope and resiliency with the peers that I support."
TCU clients can approach Jackie to request support. Alternatively, TCU staff can identify a client to Jackie that they feel has shown or shared a need for emotional support related to mental health or addiction and Jackie then handles an introduction.
Sean says the support is not "advice-giving or life-coaching" but more about letting peers guide the conversation.
"It's not always about what we say, it's how we listen and how we just be with people, and that's the beauty of peer support."
PCM peer support workers all have lived experience that helps them connect with and journey alongside people facing challenges with mental health or addictions. Shared experiences allow "practical and emotional support" to flow, Sean says.
"Let's face it, when we're going through something difficult in life, we gravitate towards people who are in recovery or have recovered from what we are going through."
Life transitions are times when people most need support, he says, and when a transition is health-related the need can be greatest.
"Navigating the health-care system can be daunting. We are thankful for our partnership with Misericordia Health Centre that allows us to overcome barriers and provide support to people at the time and place where they need it."
PCM has about 30 staff who provide mostly individual support, though group and support for families is also offered. All PCM workers receive extensive training through Robyn Priest, an internationally renowned peer support consultant, and are certified through Peer Support Canada, which confirms workers' skills, experience and alignment with the nationally endorsed Standard of Practice.
PCM also provides virtual mental health education courses and operates the Mental Health Education Resource Centre (MHERC), a province-wide resource centre that provides information, education, and mental health resources for all Manitobans. MHERC offers free access to mental health fact sheets, wellness tips, presentations, workshops and courses. MHERC houses both on-site and e-library collections of books and other reading materials. Go to peerconnectionsmb.ca and mherc.mb.ca to learn more.