Stacey Morgan, Transitional Care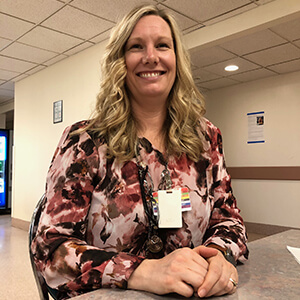 The COVID-19 pandemic is changing our world and health-care professionals are on the front lines.
Stacey Morgan manages about 40 health-care aides and nurses who care for 44 Transitional Care Unit (TCU) clients who come to MHC primarily from acute-care sites for some restorative care before transitioning to other places, which could include their homes or another facility. MHC has three TCUs.
Stacey says her staff are talking a lot about COVID-19, and they fear the unknown.
"I think it brings fear of one of the staff or patients getting ill (with COVID-19), and what that would mean."
Stacey says a lot of education, reassurance, answering questions and making sure they have appropriate personal protection equipment helps. So far, the virus has not shown up at the health centre.
The biggest difference for the transitional care units is that no visitors are allowed.
But spirits are lifted by helping clients have special moments communicating with family with a video call on an iPad. The unit has just one iPad for 44 clients to share, Stacey says, and the Misericordia Health Centre Foundation is hoping generous donors will help them purchase more.
"We're doing whatever we can to prevent social isolation," says Stacey.
And her staff are taking extraordinary steps to help people connect.
"Last week one of our clients was turning 86," Stacey recalls, "so our staff gave him a cell phone and brought him downstairs in front of the large windows overlooking the river.
"He was able to see his wife and daughter through the glass and speak to them: it was a wonderful thrill for him and his family."
Keep COVID-19 informed by visiting: covid19manitoba.ca
#mhcfamily #healthcareheroesMB #COVID19