Sylvia Chidlow, Focus on Falls Prevention Vision Screening to Patient Escort and Entrance Screening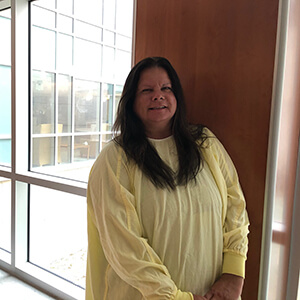 The COVID-19 pandemic is changing our world and health-care professionals are on the front lines.
With the onset of COVID-19 in Manitoba, Sylvia Chidlow's job has completely changed. Before the pandemic she was working as the program assistant and arranging optometry clinics for the Focus on Falls Prevention Vision Screening program.
"Pre-COVID I'd travel to personal-care homes with one of our two optometrists and our mobile eye clinic," says Sylvia. "The idea for a mobile eye clinic started as a Misericordia project and now Focus on Falls has grown to traveling throughout Manitoba."
As of April 21, Sylvia has traded in her eye kit for personal protective equipment. The vision-screening clinics have temporarily been suspended, so she's been spending her days on-site at MHC as a patient escort and entrance screener.
"My step count has really increased – up to 16,000 steps during my shift alone – since I've been taking patients to and from their appointments," she says as she drinks some orange juice to re-hydrate after a morning shift.
Sylvia notes that a major part of her new role includes reassuring patients and their loved ones: "I'm here to help when families can't come in. It's especially hard when they're elderly patients. I show everyone that everything is in control and safety measures are in place."
As elective surgeries at Misericordia ramp back up, Sylvia jokes that her step count will be ramping up, too.
"I'm excited to get back to traveling and doing optometry clinics. An optometry appointment can be a social event for many older adults."
Keep COVID-19 informed by visiting: covid19manitoba.ca
#mhcfamily #healthcareheroesMB #COVID19