Vera Duncan, Nursing Services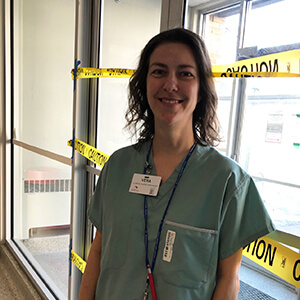 The COVID-19 pandemic is changing our world and health-care professionals are on the front lines.
"These days I'm basically running between three entrances, making sure people are entering Misericordia in the safest way," says Vera Duncan, clinical nurse specialist.
Vera wears a lot of hats at MHC: she is the advanced wound-care clinician and also facilitates research and clinical education for staff to optimize patient care.
Pre-COVID-19, Vera was working on several projects across the health centre. Nowadays she is the clinical lead on the visitor screening at the three entrances at MHC.
At every entrance, visitors and staff are first asked to use hand sanitizer, then the door screener asks a series of questions before access is granted to the building.

"If anyone says 'yes' to screening questions, they'll have to put on a mask and go to one of the isolation rooms," says Vera. Door screeners call Vera and the clinical response team (CRT) for assessment.
Vera's overall goal is to determine how everyone can enter safely – safe for them and safe for everyone on site.
"The protocols change daily, sometimes hourly," she notes. Vera and her team, which includes nurses and non-clinical staff, have to stay on top of current procedures and best practices.
"More recently we are screening staff and taking temperatures. This has required new training for even more staff."
Over the last two weeks, Vera has trained 25 nurses to help with door screening and dozens of screeners in the screening protocols, taking temperatures and Personal Protective Equipment (PPE).

"It's not just about asking the screening questions, it's about applying critical thinking."
Keep COVID-19 informed by visiting: covid19manitoba.ca
#mhcfamily #healthcareheroesMB #COVID19